The Laurels of Charlottesville Staff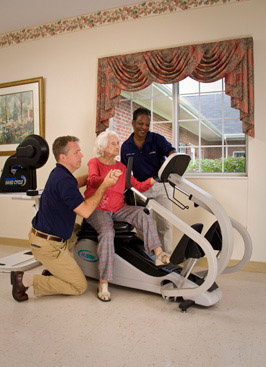 What differentiates one skilled nursing & rehabilitation center from another? The answer is... the people who work and reside there! The people set the tone, the atmosphere, and the expectations. At The Laurels of Charlottesville, we take great pride in ensuring that everyone feels like part of our family, and that they are treated as special "guests" in our home.
The Laurels of Charlottesville employs a team of highly qualified medical professionals, including a Medical Director, Registered Nurses, Restorative Care Nurses, a Wound Care Nurse, state tested Certified Nursing Assistants, Physical Therapists, Occupational Therapists, and a Speech Therapist. Our on-site Rehab, Dietary, Social Work, and Activities departments provide personalized and compassionate care to each guest. From the moment you walk through the front doors, the warmth and caring of the staff will begin to gain your trust and confidence, as they strive to exceed your expectations.
Unlike other facilities that use "contracted" staff members, each member of the team at The Laurels of Charlottesville is directly employed, not "contracted". Each Team Member takes great pride in portraying "The Laurel Way of Caring", as they strive for excellence in providing only the highest standard of care and services to every guest, and to every family member and visitor. Come on in! Visit a while! Let us show you our very best... let us show you The Laurel Way.
Scott Overstreet, Administrator
Scott has worked in both the acute care and long-term care settings. He has been a Nursing Home Administrator since 2001. He joined Laurel Health Care Company in January of 2008. Scott received his Bachelor's Degree in Health Care Administration from Mary Baldwin College and worked as an Admissions Director and Assistant Administrator, prior to becoming an Administrator. Scott proudly boasts a "deficiency free survey" among his many accomplishments. Born and raised in Virginia, Charlottesville has been home for Scott since the mid-80's. Scott has two children, Jack and Alexa.
Michelle Sutton, RN, BSN, Director of Nursing
Michelle Sutton joined The Laurels team in 2010. She graduated from the University of Virginia with experience in both acute care and long-term care. Born and raised in the Shenandoah Valley, Michelle currently resides in Waynesboro with her husband Rick and son Derrick.
Krista Carter, Director of Marketing
Krista has worked in both acute care and long-term care settings. She joined The Laurels of Charlottesville in January of 2016. Krista grew up in Central Illinois where she received her undergraduate from Millikin University. She moved to Charlottesville in 2013 and has since become very active in the Charlottesville community, volunteering with many nonprofit organizations.
Janice Wilcox, Rehabilitation Services Director
Janice grew up in West Virginia and received her undergraduate degree from St. Andrews Presbyterian College in North Carolina and her Master's Degree in Physical Therapy from Duke University in 1976. Janice has worked in a variety of settings, including intensive care (receiving a certificate in Respiratory Therapy), shock/trauma hospitals, general acute care hospitals, orthopedic office for outpatient treatments, home care, and long-term care, where she has worked since 1992. She has been a clinical instructor for Physical Therapy students most of her career. Janice has been with The Laurels of Charlottesville since it opened in 2005.